Creating code samples for API/SDK documentation (webinar recording, slides, and audio)
Yesterday I gave a presentation to the soap! conference group on creating code samples.
Here's the video recording:
And here's just the audio. (Note that the audio here is crisper than the audio in the video.)
Download MP3 (right-click, then Save Link As)
Here are the slides:
Here's a link to the PowerPoint file: zip file | pptx file.
To learn more about soap!, see soapconf.com and sign up for the soap! newsletter.
Add a review for the "I'd Rather Be Writing" podcast in iTunes
If you like this podcast, please add a review for the podcast in iTunes. Just click this link, and then launch iTunes. Find and subscribe to the podcast in iTunes. On the Ratings and Reviews section, add a rating and optionally a review. This will help increase the visibility of the podcast in iTunes.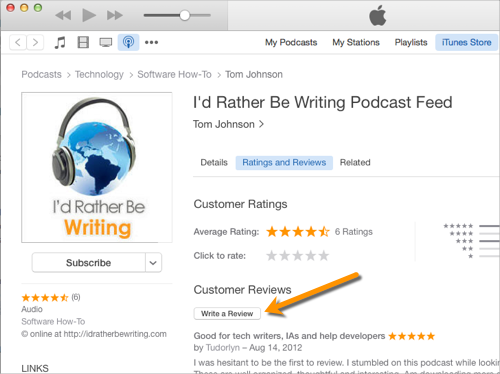 ---