Podcast: The upcoming tcworld India conference on March 12-13, with Akash Dubey
Download MP3 (right-click and select Save As)
This weekend I talked with Akash Dubey, one of the main organizers of the tcworld India conference, about the upcoming conference in India. Although I haven't mentioned it on my blog yet, this year I'm actually attending tcworld India as an invited keynote presenter.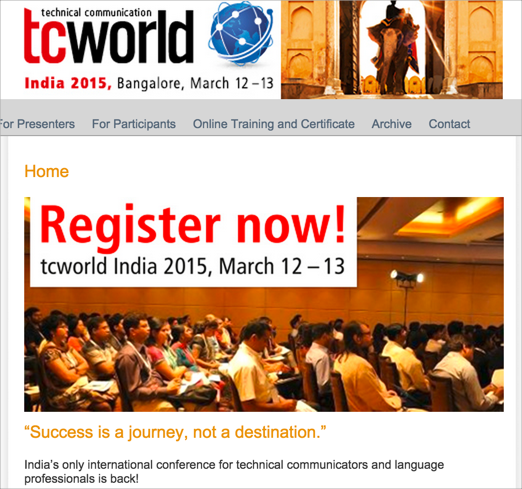 tcworld India is a joint effort by two groups: Technical Writers of India (commonly known as TWIN) and tekom (the same group that creates the tekom conference in Germany).
Approximately 350 - 400 people attend the tcworld India conference, which takes place March 12-13 this year in Bangalore (the "Silicon Valley" of India). A lot of the attendees work for multinational companies whose headquarters are in the U.S. or other European countries. As such, many India technical writers work in globally distributed teams. This presents major challenges.
Akash said many teams are also more autonomous and act more independently. For example, there are many startups in India with tech pubs needs.
I'm giving at least a couple of presentations while at tcworld India. I'll be giving a presentation on API documentation, which is a theme that (if you're following my blog) you have no doubt seen lately. But I'm focusing my keynote address on the topic of innovation, which is something that I'm also passionate about.
For the next couple of weeks, I plan to publish a series of posts on the topic of innovation, hopefully as a way of preparing, refining, and exploring this topic in preparation for my keynote.
Enjoy this podcast. If you would like to attend the tcworld India conference, visit the tcworld India 2015 site and register.
Buy me a coffee