WordPress Tip: Using WordPress to Build Websites Instead of Blogs
One of the things I like about WordPress is its versatility. WordPress isn't just blogging software. With the right theme, you can build a website that doesn't resemble a blog at all. Essentially, writers who become familiar with WordPress become empowered as web designers as well.
A few weeks ago, I made a website for a client who was launching a green building business (see or click the image below).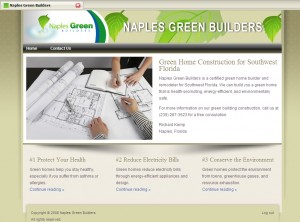 It's a predesigned theme that I purchased from ithemes.com, customized a bit and configured. I also wrote the content. I like WordPress because you don't have to start from scratch with the theme design. If you get a system down and are familiar with the theme you're implementing, you can create a professional site fairly quickly.
However, if you undertake such a project, triple the time you estimate for your first project, because it just works out that way. (Also, as always, the writing of the content is often more difficult than the actual site creation.)
My point is basically that WordPress doesn't just have to look like a blog. It's a micro-CMS that also empowers less technical users to control and manage the text on the pages without using Notepad or Dreamweaver.
Buy me a coffee