Why I Don't Take Freelance Writing Jobs Anymore
If you're a writer, the most logical side job for the weekends is freelance writing. You know, copyediting for websites or other projects that people have. I've done this in the past, mostly picking up jobs from my brother-in-law who designs interactive flash sites and games for people. At times, the clients need copy as well. However, I've pretty much stopped doing freelance writing, for several reasons.
First, freelance writing is a lot harder than clients assume. To write copy for one page of a site, the process usually involves the following:
Talking with the client about the content he or she wants (30 min.)
Researching the subject matter to better understand what you're writing about (1 hrs)
Interviewing the client to determine the messages and target points they want you to cover (1 hr)
Finding images to accompany the text (usually sample images that you're recommending be purchased) (30 min.)
Writing the material (2 hrs)
Revising the copy based on the client's edits (30 min)

It can take five hours just to write one page of content, and I didn't even mention SEO. If you're billing at $75 an hour, that one page can cost the client more than $400. Not many people are willing to pay $400 for one page of copy. I know if I paid $400, the writing better blow me away.
A lot of people have okay writing skills and can hack out the content they need anyway. Even if the copy isn't brilliant, it's often acceptable. This is where writing becomes a secondary skill, rather than a primary skill.  Because clients can do it (sort of), they're less inclined to pay others to do it.
In contrast, WordPress freelance jobs are a different story. Many people lack the technical skills to configure and design a custom WordPress site, so they can't fall back on their own "crummy CSS skills" or something. Most people don't know CSS or even understand FTP. They may try their hand at it, but when they open a WordPress theme file and see PHP, it all looks foreign, and they quickly realize they have no idea what they're doing.
If I know how to do what a client wants, executing it can be fairly easy (though not always). Training, installing a blog, changing its look and feel -- these are needs a great many people have but can't do themselves.
In contrast to the demand for freelance writing, the demand for freelance WordPress design is fairly large. Right now I have more WordPress projects than I can do. I mostly relegate the work to the weekends, and save the weeknights for communication only. As more non-technical people start WordPress blogs and have needs for greater customization, the opportunities for WordPress projects will only increase.
In a recent survey, oDesk Blog found that demand for WordPress skills outstrips the growth of other skills.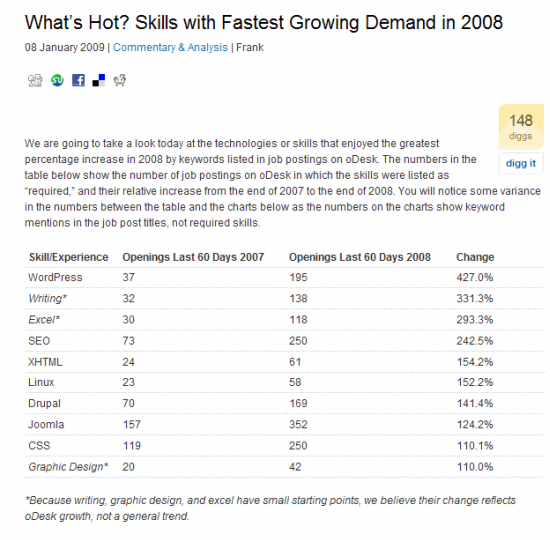 The figure to note in the chart is the 427% increase in WordPress as a requirement in jobs. Surprisingly, writing is also listed, but that could actually be a bad trend for writers, because it shows writing is a more commonly expected skill, rather than a specialized skill (at least that's how I interpret it).
The bottom line is that it's easier to make money through your technical skills rather than through copywriting. Additionally, spending your free time with technical design leaves your creativity full. (Of course, doing side jobs at all is something that may not be worthwhile, given the time it takes away from your family and hobbies. Scott Nesbitt wrote a good post on the dilemma of freelance work.)
About Tom Johnson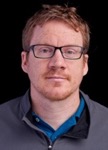 I'm a technical writer / API doc specialist based in the Seattle area. In this blog, I write about topics related to technical writing and communication — such as software documentation, API documentation, visual communication, information architecture, writing techniques, plain language, tech comm careers, and more. Check out my API documentation if you're looking for more info about that. If you're a technical writer and want to keep on top of the latest trends in the field, be sure to subscribe to email updates below. You can also learn more about me or contact me. Finally, note that the opinions I express on my blog are my own points of view, not that of my employer.