What's the point of site search?
Lately, I've been researching different options for doc search. I've lived for years with poor search in my docs, and I haven't paid a lot of attention to it. Search is one of those elements that's easy to ignore. Despite how easy it is to ignore search, search is one of the most common user behaviors, and one that most tech writers would consider to be important. So let's examine that paradox a bit more — how can search be so important and unimportant at the same?
Looking at my own search experience
I'd like to start by taking a look at the searches I made over the previous day or so. According to Google History, here's what I searched for:
Windows chrome
Windows chrome (Window non-client areas)
what is a windowed mode windows
from january 22 to june 10 is how many days
site:qualtrics.com site intercept
pet peeve idratherbewriting
la gear masks
download photoshop
nothing added to commit but untracked files present (use "git add" to track)
git remove files from tracking
site:idratherbewriting.com facets for tech comm
1160 Enterprise Way, Sunnyvale, CA
what is your review of swiftype
swiftype
Cludo
is algolia worth it?
how does kendra machine learning work
delete files from command line
delete specific files from directory programmatically
delete list of files from directory programmatically
regex does not equal
jekyll don't publish file if it has frontmatter property
script to locate all files with certain html property
jekyll don't build a file if it has a certain frontmatter property
how to use a digital multimeter
I won't bother to explain the reason behind these searches. Each of these searches is peppered with sites I've visited. After each search, the visited sites informs me about the terms to search, creating feedback loops that influence the next search query.
Search is critical to how I imagine most of us operate. Maybe your Google history looks different, but mine is filled with dozens of searches a day, especially when I'm stuck with a problem (e.g., git issue) that I can't figure out.
If search is so central to how we operate, so central to findability, why doesn't search earn a more prominent place in my daily activities as a professional technical writer?
No doubt it's because Google takes care of search for me. Because Google is so good, I don't have to worry about creating my own search for docs.
I recently asked our field engineers how they used search, and most of them also use Google rather than our dev portal site search when looking for content. Even if I implemented an amazing search experience, out of sheer habit people might just continue using Google anyway.
Looking at Algolia analytics
I have Algolia integrated into my blog. Someone from Algolia actually integrated it a couple of years ago as a way to promote Algolia, and they gave me a free starter plan for my content because the number of pages on my blog exceeded the free community plan. Honestly, I don't look at search analytics that often, though presumably I should be regularly examining the terms people search for to get a better idea of what readers want.
Here's the search analytics dashboard in Algolia for the past 30 days: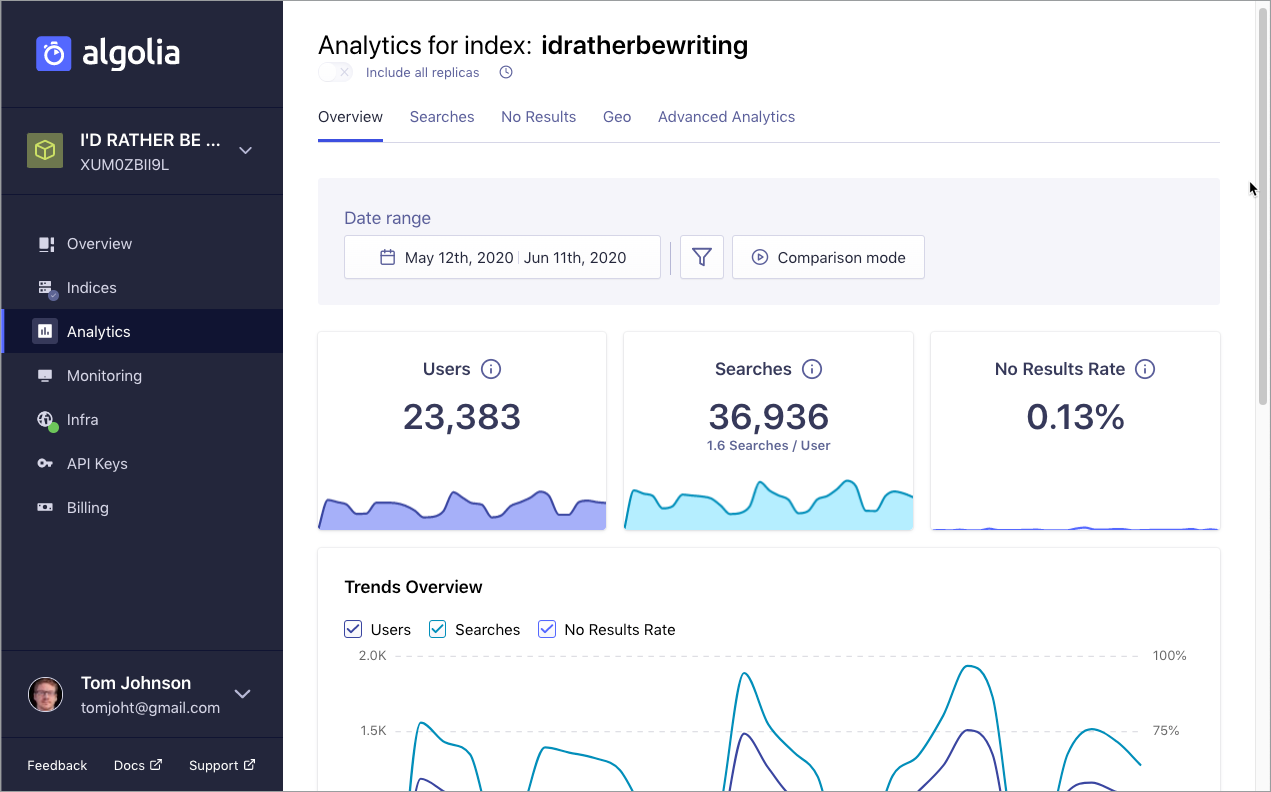 Search analytics retention is only 30 days in my plan (and in the community plan, there's no retention at all).
Apparently, 23,383 unique users performed a search during the last 30 days. They performed 36,936 searches, or 1.6 searches per user. Holy cow! I didn't even realize that. Every year when I analyze my analytics, I focus only on Google Analytics and podcast analytics. Have I been missing a huge piece of the puzzle?
Looking more closely at the searches, there seems to be a glitch in the analytics.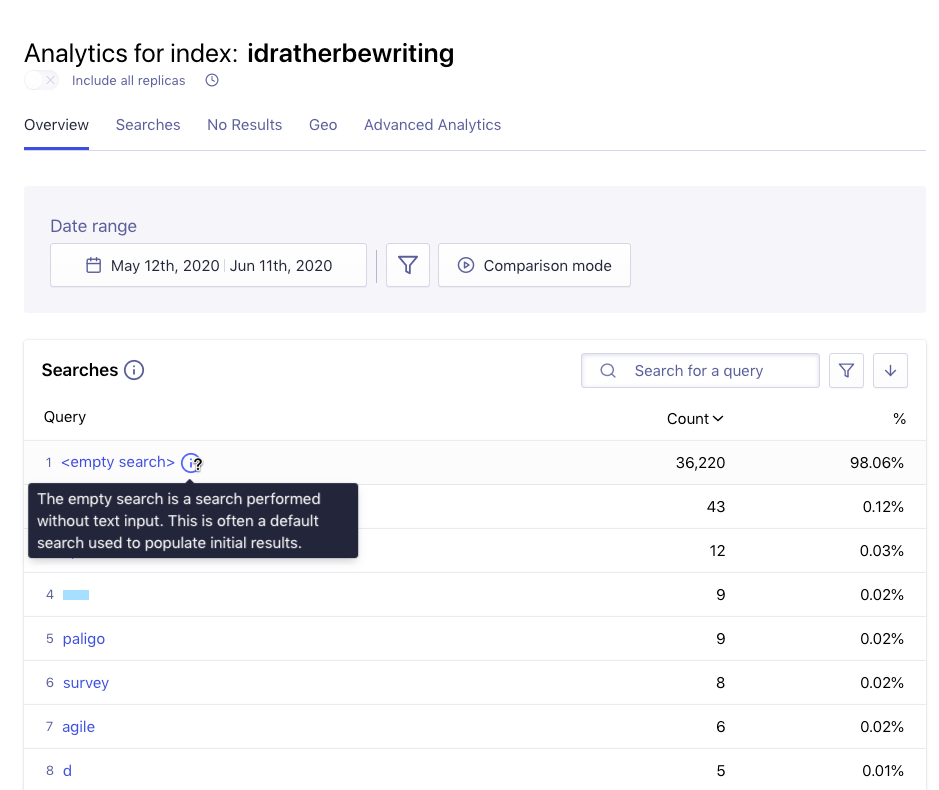 36,220 of the searches are just empty? WTF?
If I look at the actual visitors on my site for the same 30 days by looking at Google Analytics, the count is around 160k page views for 86k users, so the empty search with Algolia can't be a mere page load but might be users putting their cursor in the search field or something? Here's my Google Analytics dashboard: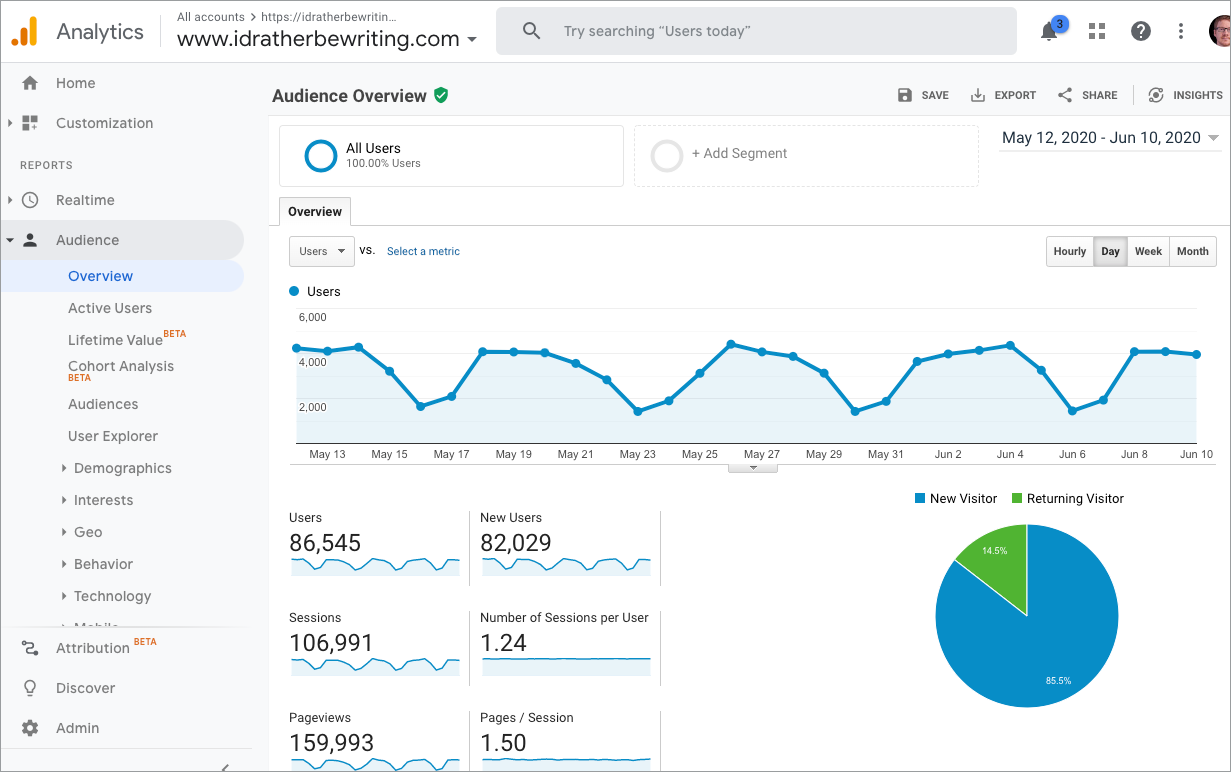 159k page views doesn't explain the 36k empty searches from Algolia, so I have no idea what's going on.
The actual searches people are making on my blog
Let's dive deeper and analyze the actual [non-empty] searches people are making on my blog. Here are the queries:
api
paligo
survey
agile
d
dita
peter
w
markdown
madcap
`
oxygen
jekyll
algolia
analytics
trends
swagger
smes
developer experience
resume
rest api
postman
developer portal

---

/
+++
0
api
asciidoc
beginner
clickhelp
cms
code
complexity
content strategy
dev
developer
devops
docops
docs-as-code
e
fonts
four childre
framemaker
"getting started"
google analytics
graphql
guidelines
i
images
information 4.0
instructions
interview
ixiasoft
j
jira
jjkkk
job
minimalism
oauth
openweather
podcast
portal
portals
process
readme
readme.io
release notes
sales training
screenshot
scrum
sifter
skills
style
t
technical
technical writing
template
templates
tools
ux writing
wtd
books
bre
breuch
campbell
case study templates
chatbot
clc
x
cloud
technicial
tech writing
code samples
code smaples
codin
colors
communicator
companion
tedopres
compliance
conref table
content creation
content development
telecommunication
content typ
content warehouse
context
context sensitive help
creative writing
csh
customer engagement
3rd
"data dictionary"
data visuali
dataviz
dc webar
ddd
derip
descriptive
xdocs
devdoctrends
develop
xml to markdown
developer document
developer documentation trends
2019 stc summit
2019
developer relation
termly.io
dev trends
diagram
dira
2010 16 09
dita]]]
dita versus markdonw
dita versus markdown
dita video
dita vs
diversity
doc-as-code
test
doc plan
docs
docs a
docs-as
docs as c
docs as code
tho
doc trend
doc trends
documentation plan
documentation portal
documentation portals
documentation process
duin
ticket board
easydita
ebook
echnical
ecosystem
edi
educational
email
endpoint
end point api reference structure
end user documentation
engagement
epic
error messages
every page is page one
examples
excel
f
faceted sear
faqs
fare
fe
feedback
fg
fla
flare
fmla
tips
foru
foundation
foundational books
tool
fpmts
xx
freelance
fs
fsb
fshdg
future tense
fvg
fvtfb
fyam
g
ge
topi
getting started
git
github
gitlab
gl
glossar
topic-based
googlr s
grammar
grammarlt
grammarly
graphics
topic bbas
gravel
gravel sif
gravel sifter
guest
guest
trend
gustafson
header parameter
headless cms
herion
how to write work instructions
how you write
http
https://idratherbewriting.com/
hugo
hypeste
iame
identities
illustrator
troubleshooting
import wordpress
in
informatiion
troublshooe
information a
instructional
instructional design versus technical communication
tutorial blog
integrated
intere
ubuntu-16.04.6-desktop-i386
intro
issue tracking
issue trakc
#NAME?
iteatio
iteration
user
user-
java
javadoc
javascri
javascript
jekyl
2010 09 16
jekyll+
jellybeans
jeopardy
zoomin
jjkk
value
jk
versio
job interview
jonah sch
json
json schema
jupyter
kanban
kim sydow campbell
knowledge base
kube
kubernetes
laid off
landing page
language
leave form
le plus
library
linkedin
linking
lisa mel
lisa meloncon
lis mel
logo
macbook
101
management
markdo
0
markdown to
markdown to dita
markdwn
markdwon
mat
mcmichael
medical
melonie mc
melonie mcmichael
metrics
migrating
visual
mobile
modal
models
ms word
n
nb
netlify
new post in simplifying complexity series
nm
notebook
nothing to see here
o
<
online help
openapi
walton
openwest
oxyen
♣♣
pac
#NAME?
pandemic
para
paul gus
pdf
perfectit
personas
#
peter
peter gruenbaum
pharma
ph in dita
ph tag
plan
po
podcass
washing
podcasting tool
washington dc webinar
web
portfolio
posr
\
prismic
privacy policy
websock
process documentation
product analysis for documentation
programming
progressive web app
pwa==
pythonn
python projebct
pythonproject
python project
pztho
qa
qordoba
query param
"questions to ask smes"
qui
quick re
r
ra
re
websocket
readme.com
well
reasons for failure of documentation
recording of innovation in technical communication keynote at tcworld
referable content
reference card
references
relationship tables
releasase
why simple language isn't so simple
renting
repetitive api
require login
resposive
rest
*
]
reuse
rnet
roles
ror
sa
saa
saas
safe
salart
salary
wiki rot
sample code
saul carlin
scedu
scheduling
schema.org
schwartz
scoping hours
wine
screen shots\
scripting
scrittura strutturata
wordpress
sdk
search
search jekyll
seattle
secure online help
select click
self publishing
self review
seth
shannon
side navigation
side nvai
writing
simplifying co
single sourcing
sitemap
sjon sh
skill
writing readme
_
software
som
spring boot
sql
starting as technical writer
static site generators
status codes
structure
structured authoring
zoomin docs
style
"style guide"
style guide
summary
survey
survey data
survey jonah
survey jonqh
survey jonwh
surveymonk
synthesis paper
wtd austra
table of contents
tables in dita
tagging phrases in dita
taxonomy
tbl
tc eserver
tc.server
tc server library
teamworks
tech
technica
wtd may 28
90-u
a
accessibility
acrolinx
6v b 4m,/\nbvfgevlk7p[poiu
agu
6v b 4m,/_]
all
a mini
analysis questions to ask
462
andrew
an interface can have static methods.
annotated
40 foundational books for technical writing
technical
api challenge
api docs
api documen
api documenta
api documentat
api documentation
api documentation for beginners
apiiary
api jeopardy
api tools
api versions
api vizualization
arduser
are tech
article-
article based
article based hel
technical communic
asciidoctor
as code
ator
aufc
9-Aug-18
aust
author
author-it
avery
b
basics of api documentation
begin
technical solutions
beginners
be repetitive
berlin
best practices
best practices documentation
blog
boardk
book review
Users made 715 searches over the course of a month. What's bizarre to me is how different the searches look from the searches I make in Google. Most searches are one word searches that hardly seem informative, but I guess users have already narrowed down their search to my site and are adding this as an additional factor. They might want to know, for example, what Tom has written about "berlin." Searching google for "berlin" wouldn't make much sense at all, but searching on my site for "berlin" is the equivalent of asking "what has tom said about berlin on his blog."
Another factor to keep in mind is that my site search is an Algolia Instant Search. As such, results return for each letter you type. Typing "berlin" creates six search operations, one for each keystoke. The analytics only shows the full query, but users might be adjusting their search on the fly based on the responses they're seeing. Unfortunately, this makes the search analytics less useful.
Overall, these search analytics aren't that helpful. They don't really give me any clear direction about anything.
Searches with no results
How about looking at "searches with no results," which presumably would be a more insightful category in terms of identifying gaps with docs, right? Here's what people are searching for that isn't returning results:
jjkkk
462
6v b 4m,/_]
6v b 4m,/\nbvfgevlk7p[poiu
90-u
an interface can have static methods.
api jeopardy
arduser
clc
dataviz
dc webar
ddd
devdoctrends
end point api reference structure
fg
fpmts
fshdg
fvg
fvtfb
gitlab
jellybeans
jjkk
jk
jonah sch
jupyter
kim sydow campbell
le plus
lis mel
nm
paul gus
prismic
pwa==
pythonproject
qordoba
ror
scrittura strutturata
survey jonah
survey jonqh
survey jonwh
synthesis paper
tagging phrases in dita
tbl
termly.io
ubuntu-16.04.6-desktop-i386
websock
websocket
♣♣
wtd may 28
I have to wonder if half of these are bots, especially the search for ♣♣. At any rate, the information from search analytics fails to be informative. I can also see the number of searches by location, and there's an Advanced Analytics option, but it's a pro feature and requires facet selection in your search.
One trend seems clear: Search analytics are even less helpful than general web analytics. That's kind of sad, because often when we think of search analytics, we imagine getting hold of detailed information that describes exactly what users are looking for, their terms and phrases, and more. But the reality is not that at all.
With 715 searches conducted over the past 30 days based on 86k users, that means about 0.8% of visitors (on my site) use site search. Granted, people might search documentation more than a blog, but I doubt that percentage climbs up too much.
Conclusion
Overall, is site search a waste of time? If you could capture meaningful search analytics from use of site search, it might be helpful. But if the search analytics are meaningless, and less than 1% of users actually use it, while everyone else uses Google, then why waste time and energy trying to configure site search on docs? Wouldn't we be better of spending our time and energy focusing on how searches for terms in our docs surface in Google, and optimizing our content for Google rather than a search no one will use?
Unfortunately, due to privacy issues (as well as the competitive use of the information), Google doesn't show what searches led to your site. Instead, you would need to resort to search engine optimization analysis tools that show the popularity of keywords and phrases and how your site ranks for them, and then draw conclusions about site performance that way.
Overall, site search doesn't seem to get us any closer to these larger questions: What's bringing users to the site? What are they looking for? Are they finding it? These questions remain unanswered. Perhaps it's better to implement live chat features or other interactive widgets on the site to capture more real-time questions from users.
Your thoughts and feedback
If you'd like to share your experience with site search, please take this short survey. This also lets me know whether the ideas in my post have general agreement among readers or are off base. You can review the ongoing results here.
About Tom Johnson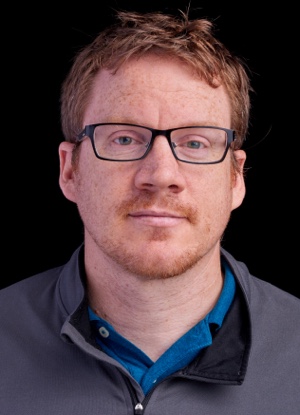 I'm an API technical writer based in the Seattle area. On this blog, I write about topics related to technical writing and communication — such as software documentation, API documentation, AI, information architecture, content strategy, writing processes, plain language, tech comm careers, and more. Check out my API documentation course if you're looking for more info about documenting APIs. Or see my posts on AI and AI course section for more on the latest in AI and tech comm.
If you're a technical writer and want to keep on top of the latest trends in the tech comm, be sure to subscribe to email updates below. You can also learn more about me or contact me. Finally, note that the opinions I express on my blog are my own points of view, not that of my employer.