What's new
If you're looking to see what's new in the API doc site/course, you can browse new content in several ways.
Most recent updates
The following are the most recent updates to the API documentation course.
| Last updated | Page | Description |
| --- | --- | --- |
| August 2021 | Ensuring documentation coverage with each software release | Covers best practices for ensuring that each new feature in a release has adequate documentation coverage. |
| August 2021 | Reporting status to business stakeholders | Covers best practices for creating documentation status reports that you send to your business stakeholders. |
| July 2021 | Reasons why product overviews are often minimal or nonexistent | Explains six main reasons why product overviews are often anemic, including influences from agile, UX, marketing, and tech comm. |
| July 2021 | Reasons why getting started tutorials fail or don't exist | Explains six main reasons why getting started tutorials often fail or don't exist, including impractical product scenarios, difficulty in distilling content, and more. |
| April 2021 | API getting started tutorial | Added section on minimalism's influence. Also updated Run in Postman button section to switch from static buttons to forked workspaces. |
| April 2021 | Getting started tutorial: Using Stoplight Studio to create an OpenAPI specification document | Updated this tutorial to align with the many enhancements and changes to Stoplight over the past two years. (See Updated Stoplight tutorial for more details. |
| March 2021 | API glossary | Expanded the content with technical examples about how to single source glossary content from a single YAML file. Also added examples for integrating tooltips and popovers as well, added more discussion, analysis, additional reading, and other updates overall. (See Updated glossary article with technical examples for more details.) |
Auto-generated list of updated pages
This list is auto-generated based on the last-modified timestamp on pages, scoped to the last 60 days. How does the script work? Every page has a "Last updated" line below the title. This script looks for any pages with a timestamp that appears within the last 60 days.
Seeing what content has been updated
To see what's been updated on the page, click the GitHub button next to the timestamp on the page: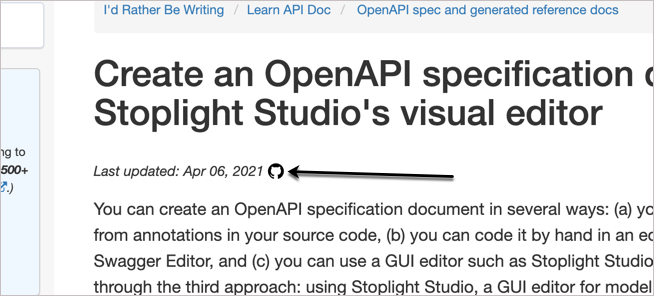 This takes you to the file in GitHub. In GitHub, click the History link: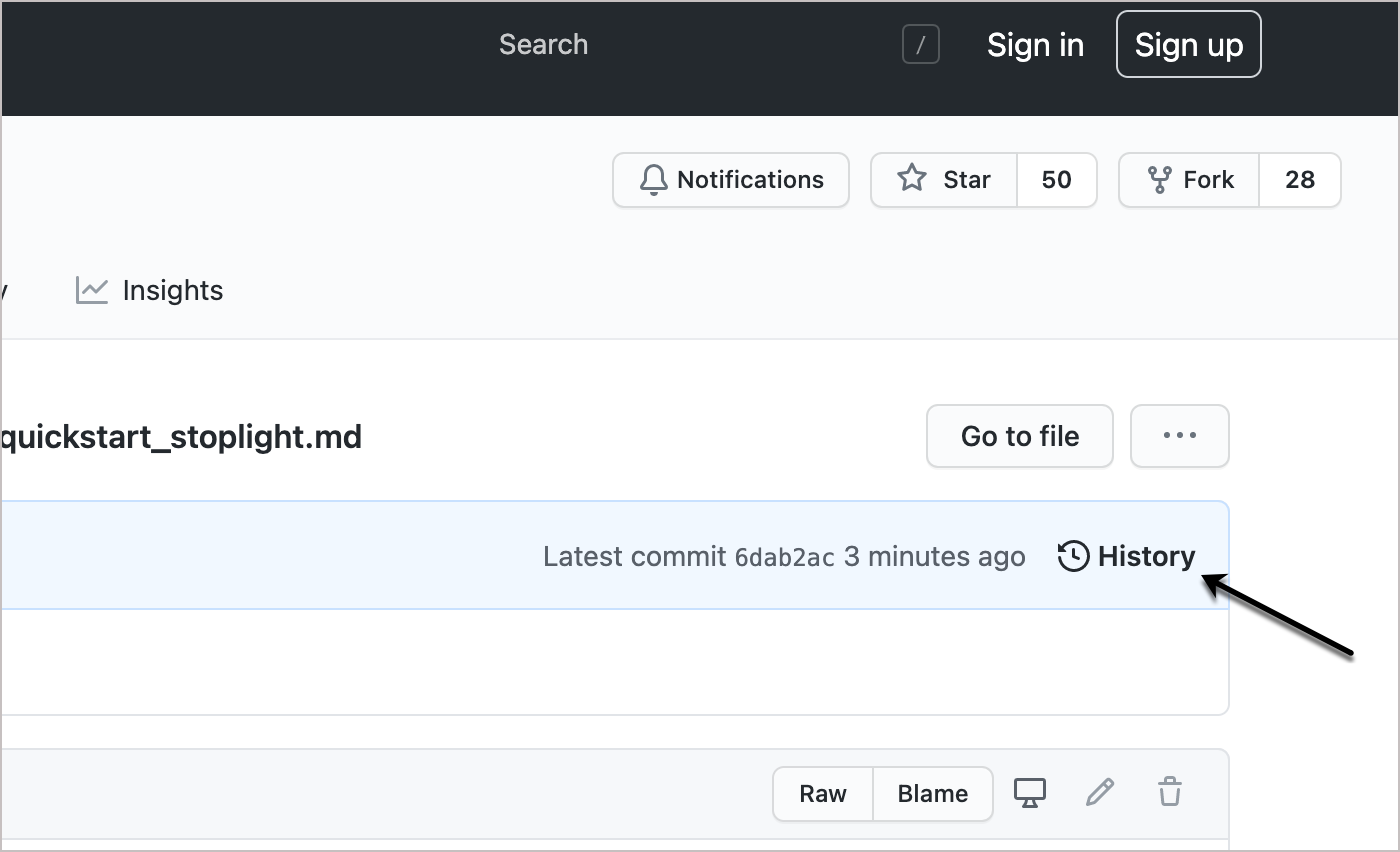 Then click the commit IDs to browse file diffs for the commits that include the file: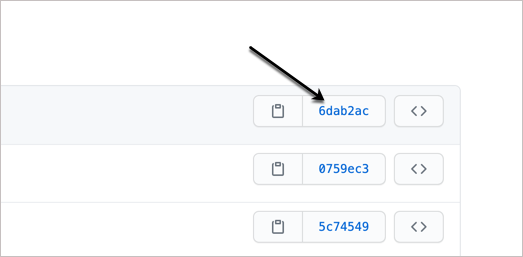 You can see the stream of commits in GitHub here.
Recent blog posts about API doc site updates
On my blog, I often write announcement-style posts after adding new content on my API course. I tag these with "api-doc" — you can browse these API doc site updates here.
Buy me a coffee
11/159 pages complete. Only 148 more pages to go.